Please click on the tabs on the left to view some of our project pictures.
50th Charter Anniversary celebrations on 8th June 2019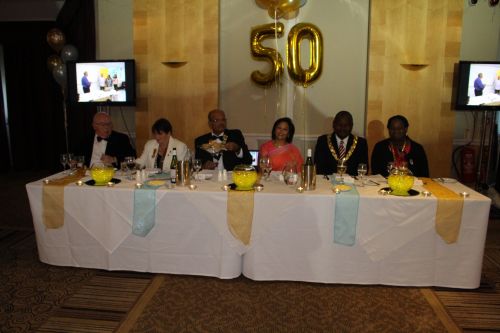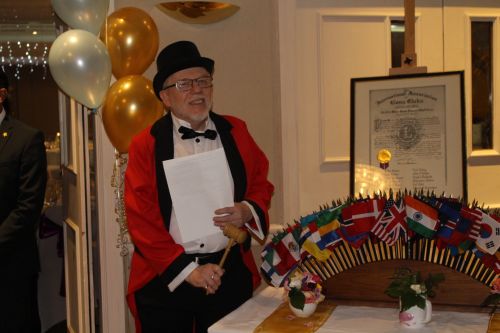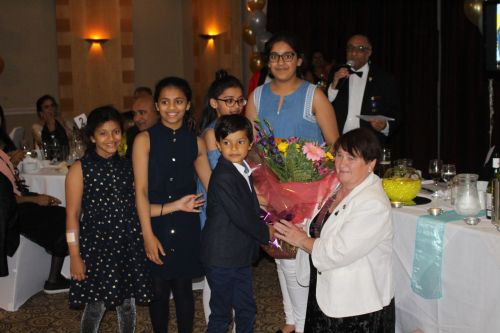 47th Charter Anniversary celebrations on 19th November 2016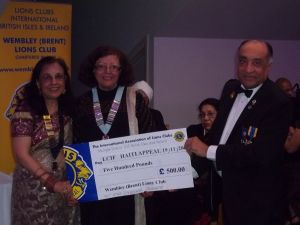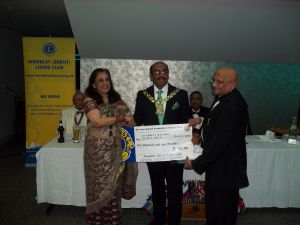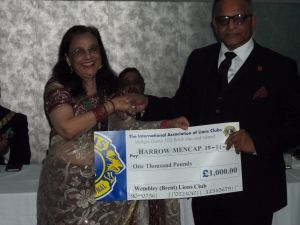 £500 donated to LCIF Haiti Disaster appeal £101 donated to Mayor of Brent's charities £1000 donated to Harrow Mencap

LP Snehlata, 1st VDG Lion Ravina & Lion Laxmi LP Snehlata with the Mayot Cllr Ahmed and LP Snehlata with CEO of Harrow Mencap
1st VP Lion MadhuMr Deven Pillay


World Diabetes Day - 14th November 2016
Wembley Lions took part in Brent Council's programme of promoting Diabetes awareness to people working and visiting the Civic Centre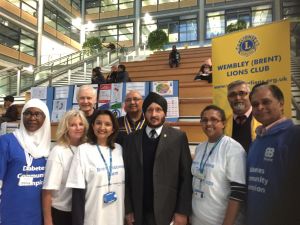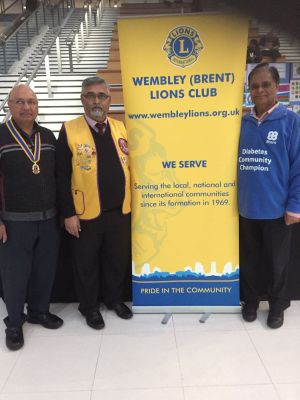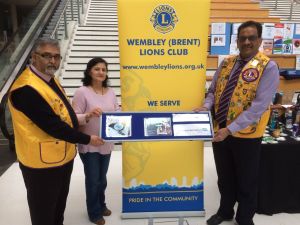 On the same day, Lion Rohit who is a Community Champion with Diabetes UK was present at the DUK head office official opening by PM Teresa May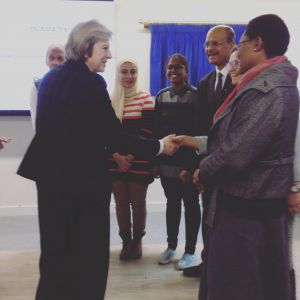 HARROW MENCAP BOAT TRIP - 18th October 2016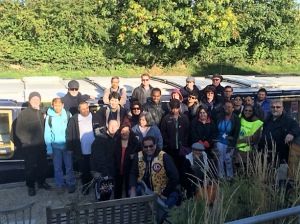 Lion President Snehlata and Lions Madhu, Dinesh and Sanjay were delight to accompany youths from Harrow Mencap on Boat trip on 18th October 2016. The youths had a wonderful time on a brilliant day.
DIABETES AWARENESS PROGRAMME AT SKLP MELA 2016
Wembley (Brent) Lions Club (WLC) was delighted to participate to bring Diabetes Awareness programme at the SKLP Meal attended by thousands of people with help from Diabetes UK. A ten minute presentation was help every 30 minutes from 10.30 am to 4.30pm by a Diabetes UK Community Champion, Lion Rohit Patel. Many patrons took the opportunity to attend and get the benefit. Thanks to all members and volunteers for giving up their time to manage the stall and engage with the community. We also want to thank the SKLP for allowing WLC to have a stall.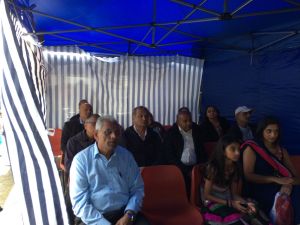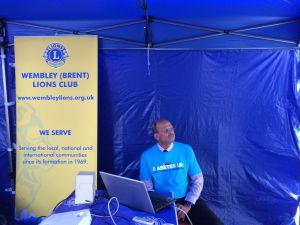 Patrons attentively listening to the presentation Lion Rohit making the presentation on Diabetes awareness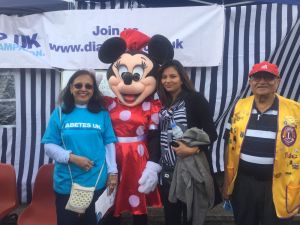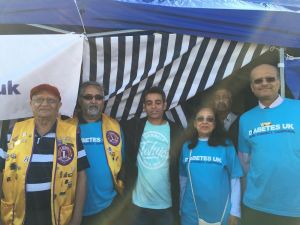 Pictures above and below of the volunteers and members of Wembley (Brent) Lions Club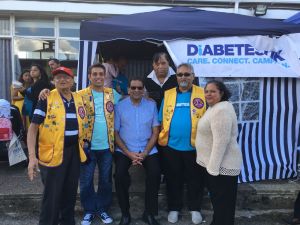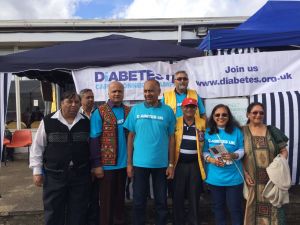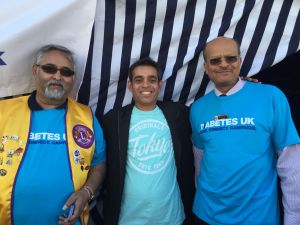 COLLECTING FOR DUK & BHF AT TESCO HARROW 2016 -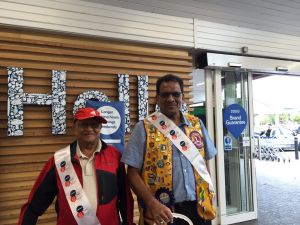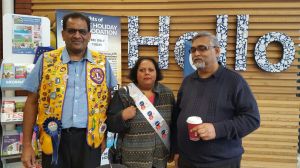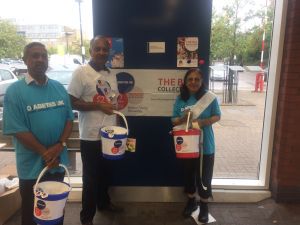 Lion Madhu and Lion Sanjay Lions Sanjay, Rita and DineshNanda Thancanamootoo - Lion RAJNI and LP Snehlata
YOUTH HOSTING 2016
MEHFIL 2016
On 26th March 2016 at Moore Spice in Wembley 130 people had a brilliant evening. With tremendous generosity of our patrons who attended and also some who could not but supported our event by way of donations, we were able to raise £1082. Our most gracious thanks to all of you and also to all the club members who worked hard to make this event a success. Particular thanks to Lions Pravin and Sanjay.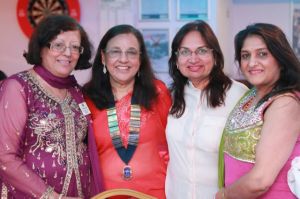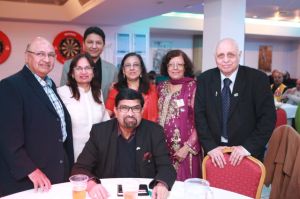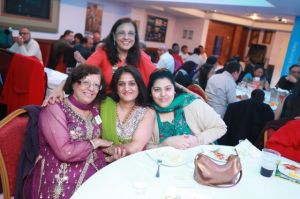 Lion President Snehlata Thancanamootoo with the district dignitaries and other guests.

SENIOR CITIZEN CELEBRATION 2016

Wembley Lions and helpers with patron we entertained at this magnificent celebration party. Almost 800 senior citizens from many areas far and near were entertained numerous lions clubs at Harrow Leisure Centre. Three Cheers for all the hard work done by all LIONS.
Wembley lions donates books to LC Burgess Hill District book shop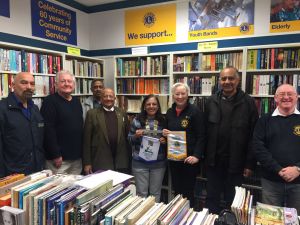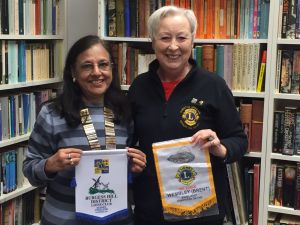 LP Shenlata and her husband Nanda together with Lions Mukesh, Rajni, Madhu dis all the hard work of collecting the books from our donor in London, putting them in the van and driving all the way to Burgess Hill District Lions Club bookshop. Thank you all for your hard work.

HARROW LEISURE CENTRE LIONS AWARENESS DAY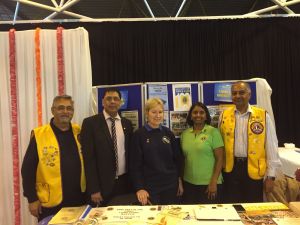 Lions Dinesh Dave, Dinesh Shonchhatra, Lesley Spence, kadu and Rajni
LAUNCH OF MESSAGE IN A BOTTLE WORKING WITH BRENT COUNCIL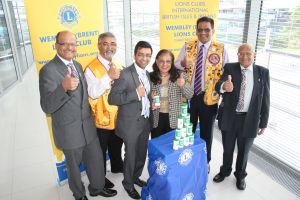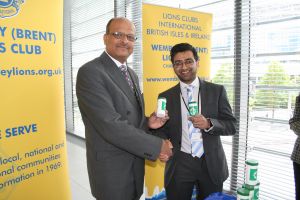 Lion Rohit - Nancie Alleyne & Cllr Hirani Members of Wembley Lions with Cllr Hirani Lion Rohit and Cllr Hirani
COLLECTING FOR DIABETES UK AT TESCO HARROW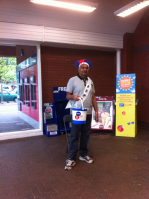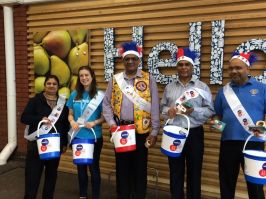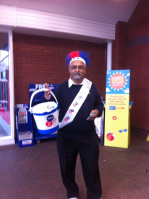 Lion RAJNI Lion Sanjay with other volunteers Lion Dinesh
3rd August '15 - SKLP Mela Diabetic Screening in conjunction with DUK

EUROPA FORUM 2014 IN BIRMINGHAM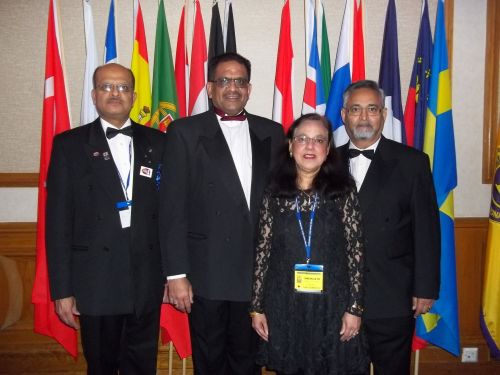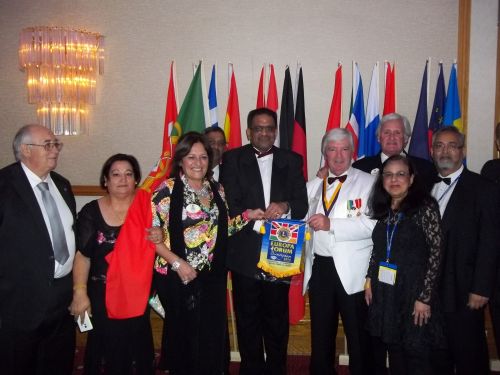 Lions Rohit, Sanjay, Snehlata and Dinesh Now with fellow lions from Portugal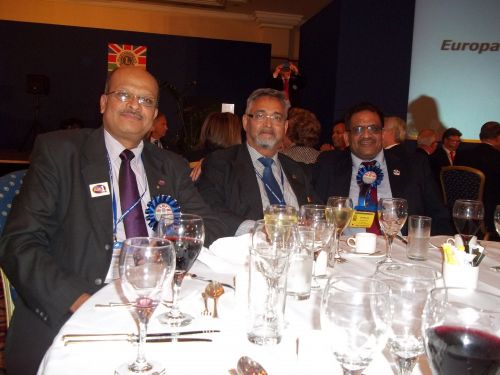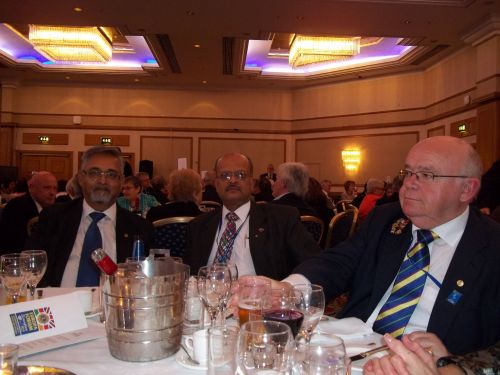 Lions Rohit, Dinesh and Sanjay Lions Dinesh, Rohit and Andrew
Lions Rohit and Sanjay with Internationa President Lion Joe Preston
YOUTH EXCHANGE - HOSTING YOUTH 2014
Youths with members of Wembley Lions and other guests
Prostate Cancer informative talk organised at St Lukes Hospice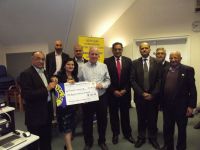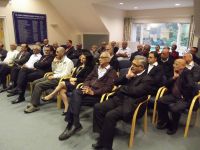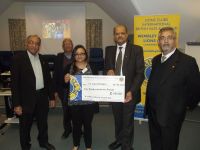 £101 Donation to Prostate Cancer Patrons eagerly listening to the presentastion £101 donation to St Lukes Hospice
Marie Curie Collection at Alperton Sainsbury's - 5th April 2014 - Funds raised £507.30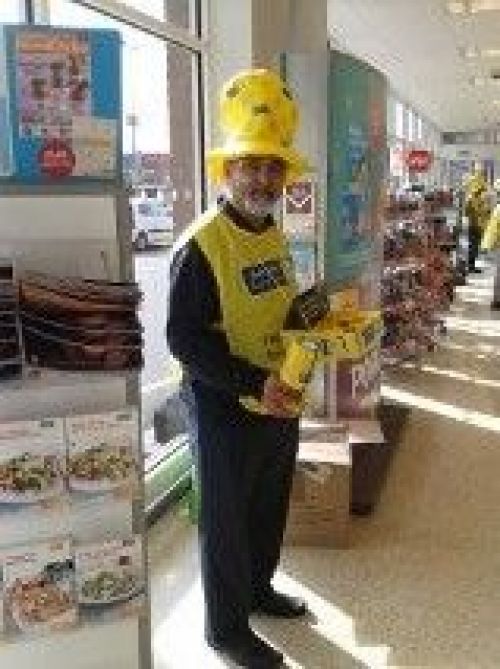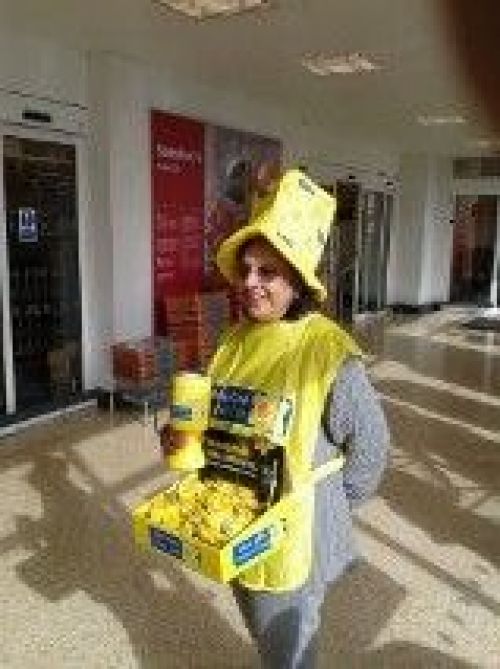 Lion Dinesh at Sainbury's Alperton Lion Snehlata at Sainsbury's Alperton
SENIOR CITIZENS CELEBRATIONS 2014
Lions Laxmi and Madhu in attendance
International Convention 2013 - Hamburg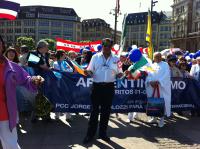 The ParadeLP Priti Lion Sanjay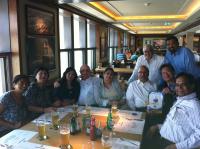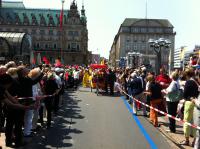 LP Priti and other Lions from 105A LP Priti & Lion Sanjay The Parade
Race Night & Handover June 2013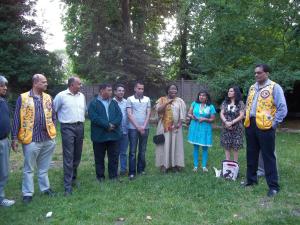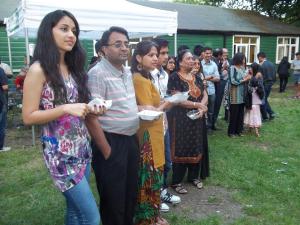 Lion Members and guests Guests enjoying lovely food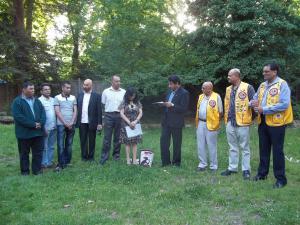 Lion Members - PZC Sunil at Handover
Marie Curie national collection
Lions helped Marie Curie national collection appeal in March 2013. We helped raise nearly £300 from the kind generosity of Sainsbury's customers at Alperton.
Thanks to Lions Mukesh, Rajni, Rohit, Priti and Dinesh for volunteering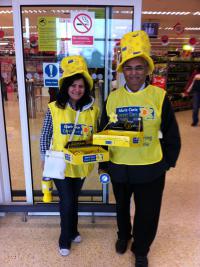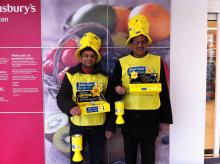 LP Priti and Lion Dinesh Lions Nisarg and Sanjay
District convention 2012
DO Minesh PIPLion Nisarg won new Lion award at the District Convention 2012